Contoura Vision LASIK – the best in refractive performance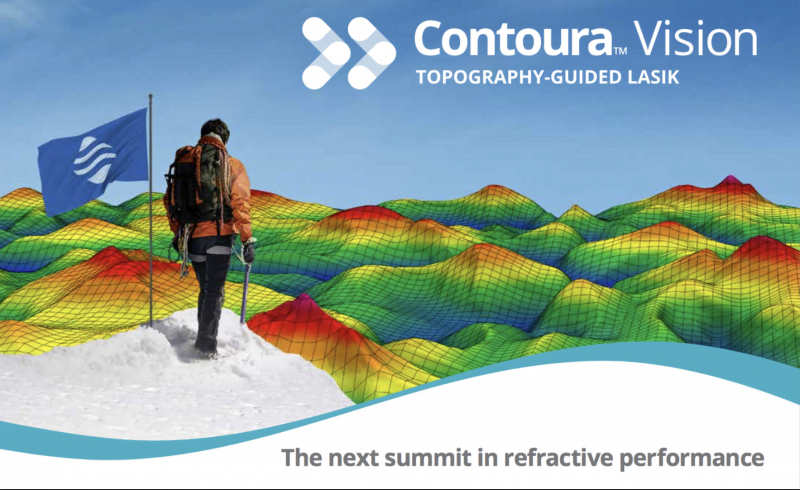 There has been a progressive evolution in the technology used in laser eye surgery.  Up until recently, laser vision correction was guided purely by the patients' glasses prescription. This information was input into a laser computer that was then used to reshape the cornea.
Contoura Vision LASIK represents the most significant advance in laser vision correction technology since its arrival in the 1990's.  While the glasses prescription is still entered into the laser computer, a topographic scan is also undertaken.  This scan records the surface of the cornea and all its unique characteristics in up to 22,000 data points.  Using these data points, the sophisticated algorithm in the laser computer not only corrects the glasses prescription but allows the laser to perfect any subtle irregularities or asymmetry on the corneal surface. By doing this, this procedure can achieve levels of vision 2 lines greater on a vision chart, than what was previously obtainable with glasses.  These results are ground-breaking, and a first in the history of eye surgery.
The Alcon Refractive Suite at Freedom Eye Laser is the only laser platform that incorporates this cutting edge technology.  Our results reflect and surpass those demonstrated in the Contoura Vision Trials.
Read more about Freedom Eye Laser's Contoura Vision results here.
You can also read more about Contoura Vision LASIK in the Alcon Contoura Vision Brochure.
To see if you are suitable for LASIK, call us on 02 9981 1771 to book your assessment and be a step closer to freedom from glasses and contact lenses.